Before you can use your new GE Vivid iq Premium, you need to have the right ultrasound probes. Fortunately, Probo Medical has the resources to help you navigate which probes you need and provide them at a price that fits your budget. Our experienced sales representatives have contributed to our guide below that leads you through what you need to know before buying ultrasound probes for your GE Vivid iq Premium, or any other ultrasound system.
Finding Right Configuration of Ultrasound Probes
The first step is understanding which probes your system supports. The GE Vivid iq comes in three different models:
Each of these models supports different or additional probes – the more sophisticated the technology, the more sophisticated the probes that it supports. For example, the Vivid iq Basic does not support the M5Sc-RS XDClear Active Matrix cardiac probe, but the Premium and 4D models do. Therefore, we recommend the GE Vivid iq Premium or 4D to any cardiologist who wants to perform more advanced cardiac studies.
Another significant difference between the probe configurations of the three models is that the GE Vivid iq 4D is the only model that supports the GE 6VT-D 3D/4D transesophageal (TEE) probe. The benefit to working with Probo Medical is that we have the industry knowledge and know that you'll need a special cart with a digital port to run the GE 6VT-D and can provide that for you.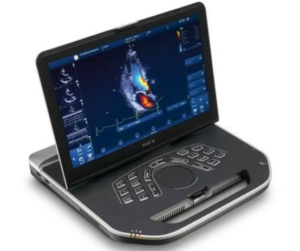 Budget
Understanding your budget before searching for ultrasound equipment is critical. Our sales representatives can best assist you when factors like budget and intended use are clearly defined.
Fortunately, due to our large inventory of over 7,000 ultrasound probes, we have the flexibility and product knowledge to syndicate the best package of probes for your system and budget. Due to our ability to completely refurbish ultrasound probe equipment, we are also able to sell them at a fraction of that a new probe would cost.
System and Probe Applications
For us to best customize your GE Vivid iq Premium with the proper probes, you'll need to decide what applications you'll be performing with the system. For example, if you're completing in-depth cardiac exams, you will want to add on the GE M5Sc-RS Matrix cardiac probe as opposed to the Basic 3Sc-RS probe. The Vivid iq Premium can also be a great shared service system. Therefore, the more probes you add, the more studies you'll be able to perform, and the quicker you'll be able to replenish the cost of your probes and system!
Basic Configuration
The GE Vivid iq Premium is able to support the following ultrasound probes:
3Sc-RS
4C-RS
6S-RS
6Tc-RS
6VT-D
8C-RS
9L-RS
9T-RS
12L-RS
12S-RS
C1-5-RS
E8Cs-RS
L8-18i-RS
M5Sc-RS (Xdclear Active Matrix)
ML6-15-RS
AcuNav 8F
AcuNav 10F
Soundstar 10F
Soundstar eco 10F G
Soundstar eco 8F G
However, we recommend equipping your Premium with the following transducers:
Advanced Cardiac Probe: GE M5Sc-RS
Basic Convex Probe: GE C1-5-RS
Basic Small Parts Probe: GE ML6-15-RS
Basic Vascular Probe: GE 9L-RS
Basic Doppler Probe: GE P2D-RS
Have Questions?
If you are ready to buy the probes for your system or you have more questions, fill in our online form here, talk to our team by calling 01452 729380 or email sales@probomedical.co.uk 
About the Author
Brian Gill is Probo Medical's Vice President of Marketing. He has been in the ultrasound industry since 1999. From sales to service to customer support, he has done everything from circuit board repair and on-site service to networking and PACS, to training clinicians on ultrasound equipment. Through the years, Brian has trained more than 500 clinicians on over 100 different ultrasound machines. Currently, Brian is known as the industry expert in evaluating ultrasounds and training users on all makes and models of ultrasound equipment, this includes consulting with manufacturers with equipment evaluations during all stages of product development.