Where Great Quality Meets Great Value
From economical systems to top-of-the-line equipment by the industry's best brands, Probo Medical has an extensive inventory to get you exactly what you need.
Chose from our wide range of affordable CT systems
With High Quality 32, 64 and 128 slice CT refurbished systems available from Siemens, Toshiba, GE, and Philips
Probo supply, install and service refurbished CT scanners to NHS and Private hospitals in the UK and Ireland. With an in-house CT installation service, full 12 months warranty which includes parts and labour - even the x-ray tube and detectors and an option to upgrade to a full 5 year warranty, we can offer the complete CT package to you. We can help with room planning and will liaise with your RPA to ensure the room design and shielding is optimised.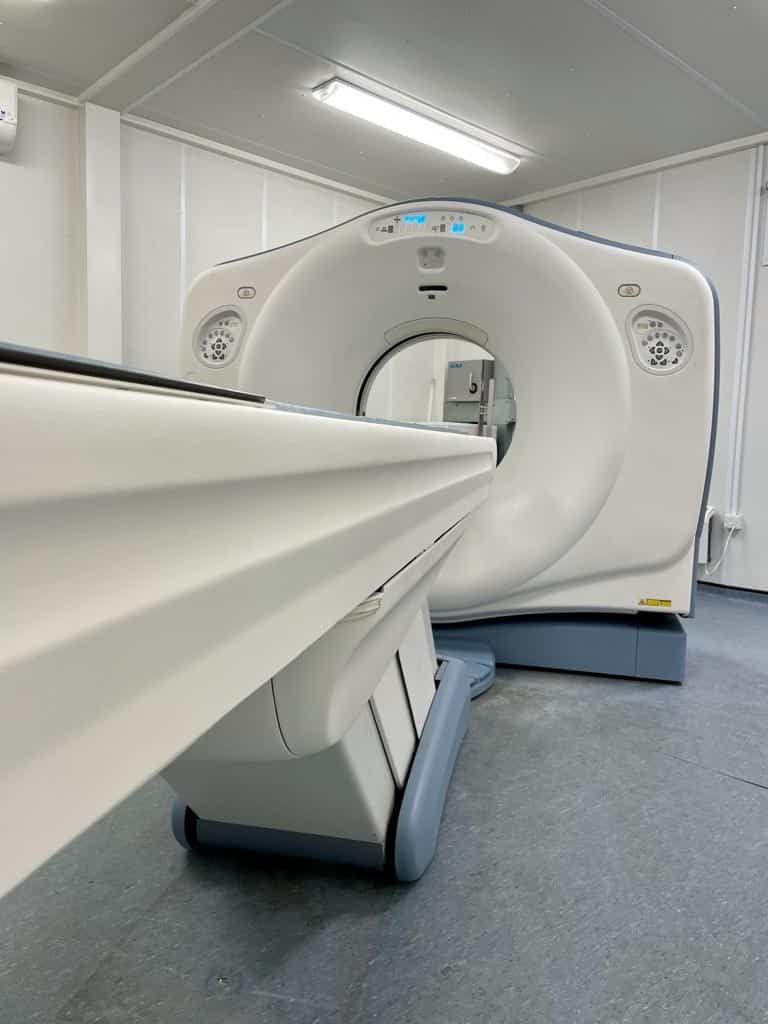 CT Scanners
Supplied with a full 12 months parts and labour warranty, which includes the X-Ray tube and Detectors.
- Are installed and maintained by our own in-house CT engineers
- Are supported post warranty by our range of Probo Service contracts, either renewable every 12 months, or 5 year service plans arranged in advance
- If space within your building is an issue and you can't extend, we also supply a Probo CT Pod, a modular lead-lined building which arrives to site complete with refurbished CT installed
Frequently Asked Questions about CT Systems
Yes, we can offer advice on CT systems and installations. We can also offer a free no-obligation site visit to check access to the site and indicative room plan. Please contact us for further details!
All systems are different. There is usually a minimum room size needed so we can advise on a system that will suit your room.
Shielding for CT systems needs to take into account the current and future usage of adjacent rooms, including rooms above and below. 
Most CT systems will require 3 phase power. If you need 3 phase power to be connected, this can time time to put in place and needs to be included in your budget. We can advise you on your power requirements for CT. 
The RPA calculations of CT shielding will take into account the number of and type of scans you are likely to perform per year. Try not to underestimate – it will be more costly to add extra shielding later if you perform a lot more in reality than you anticipate at the outset.
An RPA should be involved at the planning sae and they must be appointed in writing. The RPA will advise you on room shielding required for CT and the relevant ionising raditation regulations that apply.
A list of current Certificate Holders of the RPA 2000 Certificate can be found here.
Before commencing work with ionising radiation, the employer must conduct a risk assessment to identify measures needed to restrict exposures to employees, patients, and other persons.
We service and maintain all the CT systems we sell, but we can also provide service and maintenance contracts for your existing CT installations, regardless of manufacturer.
Subject to pre-contract inspection, we can take over your existing provider, whilst providing substantial cost savings. Contact us for more information, or visit our Service and Maintenance Contracts page.
CT Pods
Our Probo CT Pod is a modular building which can be fully fitted our to the clients specification and which arrives complete with a 32, 64 or 128 slice CT scanner and is fully lead lined.
The Pod arrives on a articulated lorry, then is simply lowered by crane onto prepared pads wherever the client wanted it to be sited. The power supply is then plugged in and you are ready to scan.
So what's included?
A CT Scanner in a lead lined CT room, a fully fitted out control room, both fully air conditioned. All lighting, electrical and network cabling and ports within the Pod, and an umbilical power cable to attach the clients 3 phase power.
Frequently Asked Questions about CT Pods
Prepare the site-level hardstanding with heavy duty concrete pads providing sufficient strength and stability for the Pod. Provide sufficient 3 phase power – if not Probo can also supply a whisper diesel generator. Provide IT Network communications. 
No, transportation and crane hire are chargeable. Contact us to find out pricing details.
Planning is site specific. We can provide advice, but you should consult your local planning office in the first instance. 
The Pod can be fully customised to your specifications, all custom work is POA. 
To connect the Pod to your building, we can install a weatherproof building link system at an additional cost. 
The Pod standard exterior a painted finish but we can also arrange vinyl wrapping of the Pod to your own design brief, with your signage, logo and imagery. 
CT Training and Support
We give you full training in CT theory, practical training on the system once it is installed plus remote support as required.
All of our systems come with specific protocols preloaded, so once your system is installed and RPA approved, you are ready to scan.
As our systems are refurbished systems that have come from different sources within the medical sector, there are a wide range of systems on offer and we are not tied to any one manufacturer.
We can supply and maintain systems from GE, Toshiba, Philips, and Siemens using our in-house team of highly qualified CT engineers.