Probo Medical specialise in Sales, Service, Rentals and Repair of Diagnostic Imaging Equipment
We are committed to empowering medical professionals to make smarter purchasing decisions without sacrificing patient care.
What You Need,How You Need It.
We have a large inventory of New and Refurbished Ultrasound systems, along with many other diagnostic imaging systems.
Transferring our industry and product expertise onto you with resources and training.
Contact our team today to get support, help and advice from our trained Professionals. 
What We Believe
Compromise on Cost, Not on Care
We believe that cost saved should equal lives saved, which is why we deliver high-quality medical equipment to customers at a fraction of the manufacturer's price.
Rentals
Whether its System rentals or whole Relocatable Rentals, if you need additional medical equipment but do not have the funding then our Rental Options are the solution for you. From economical systems to top of the line equipment by the industry's best brands, Probo Medical has an extensive inventory to get you exactly what you need. We know how important it is to keep your appointments on schedule, which is why we prioritise getting your rental to you as quickly as possible.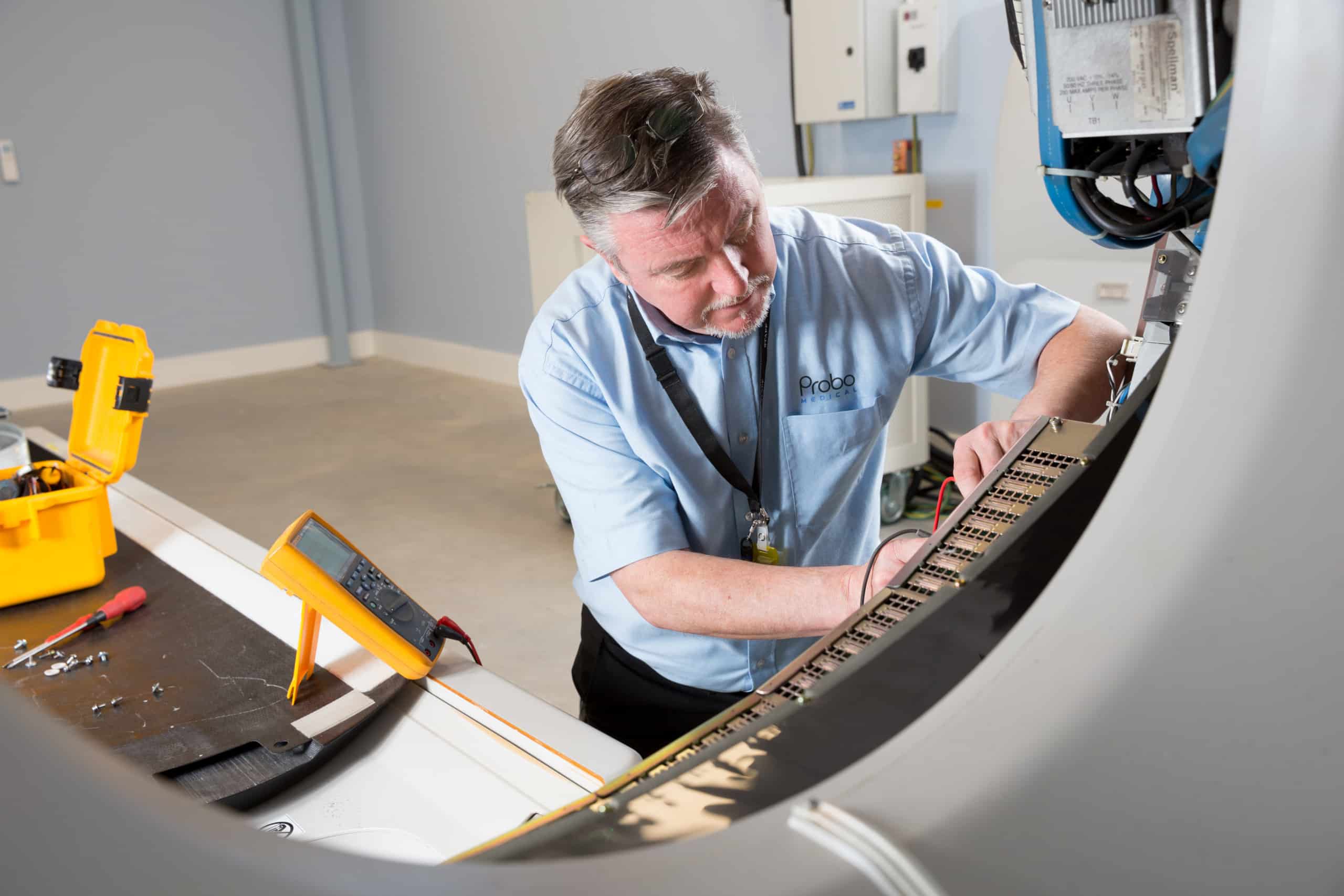 Service & Repair
Probo Medical is your resource for Diagnostic Imaging Equipment Service and Repairs. We can offer different Service Contracts with various levels of cover at an affordable price, with typical savings of 25% compared with like-for-like OEM contracts.
Deinstallation
Probo Medical purchases a range of imaging equipment, including CT, MRI, X-Ray, C-arms & Ultrasound. We also provide complete deinstallation services by Probo Medical Engineers. Each de-installation includes full certification of proof of patient data destruction . All equipment is transported by a specialised healthcare courier. Our team has extensive knowledge in the distribution of equipment locally, nationally, and across Europe.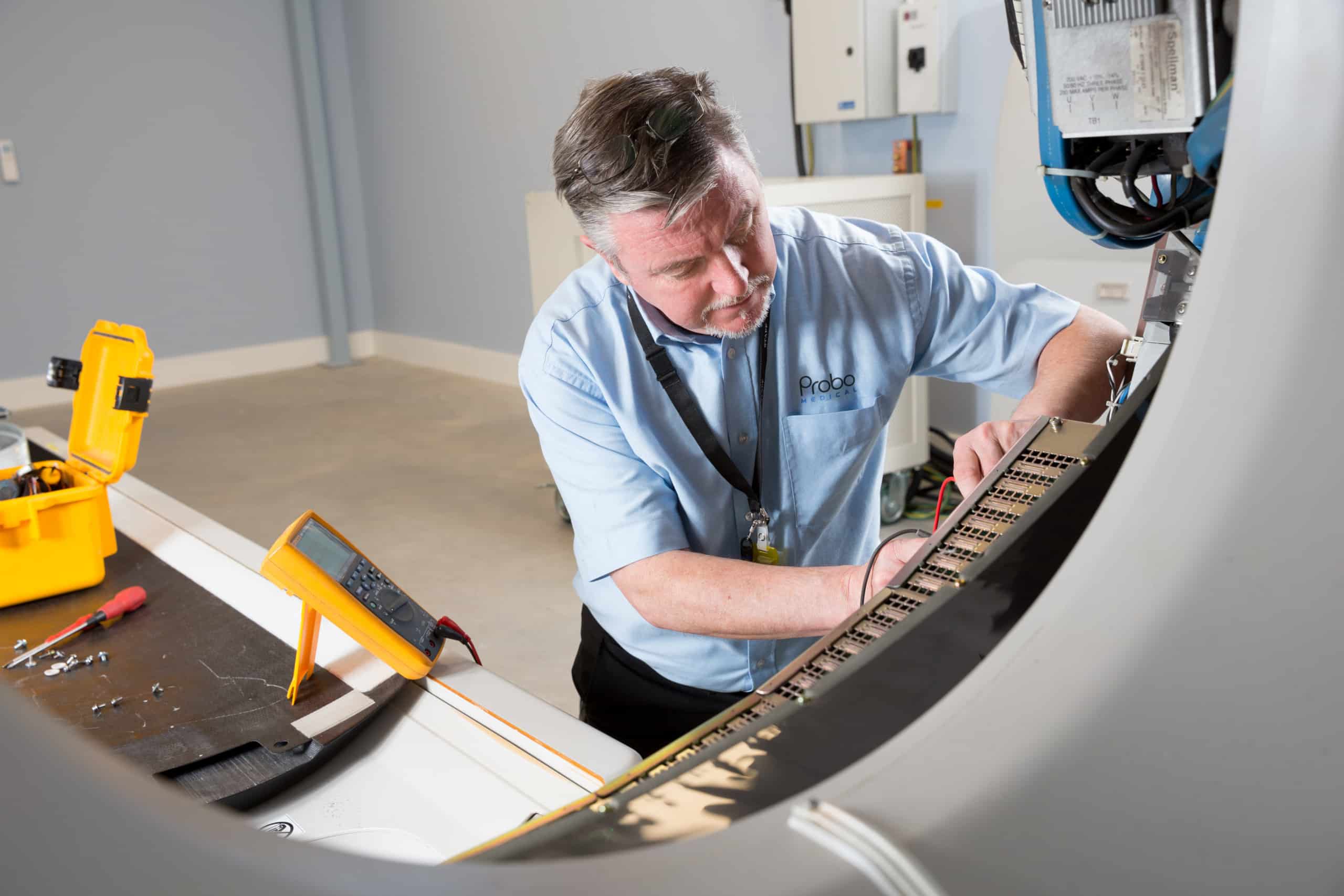 Customer Reviews
"
I think the response to help us out in this crisis has been excellent
Many thanks to the team. In the past our experience with this company has always been of a reliable and helpful team
Jackie Smith – Weston General Hospital
We have been using Probo Medical for several years for the maintenance of ultrasound and x-ray equipment. Each year the portfolio of equipment has increased as we have moved more assets under the contract with Probo which has not only given us a reduction in our maintenance cost but also an enhanced service level. The service provided has always been to the highest standard and I have no hesitation in recommending Probo to other customers.
Keith Walker – Head of Clinical Engineering & Medical Device Safety Officer – North Tees and Hartlepool NHS Foundation Trust 
I would like to mention how it was a nice team who helped us with the trial and installation of the 2 monitor systems. Danni was very supportive and gave both the medical devices team and the users very informed knowledge of operating the device and how it functioned. She also made it clear that she was very happy to further attend site to provide any help or training. The device itself is very straight forward to use, robust and very modern in its design. The installation took minutes and went ahead without any problems, this made the transition from our previous model easier for the staff to work with.
My many thanks to everyone who worked on this installation and delivery for us, and especially to Dani who has an excellent amount of knowledge of the device as well as the wider imaging/MRI field of work.
John Itter – Senior Technician, Medical Device Management Services – Salisbury NHS Foundation Trust 
The conversations were always engaging and never "pushy". we felt listened to and any questions we had were answered promptly.
Everything was so well organised and calm which made things so much easier for my team here. I appreciate that organising this (twice) was quite an epic feat and caused the team many headaches none of which were conveyed to us which is greatly appreciated.
Nicola  Garnham – Ipswich Hospital
We have always found working with Dani and the other staff at Probo Medical a positive experience. They have been organised  and efficient when  supporting us with a full Mammography equipment replacement project in May-July 2020 and were very professional in  helping in a similar project to replace the  mobile Breast Screening units throughout 2021.
The engineers (supplied by MIUS) are reliable, well organised and helpful when supporting us with Mammography units in both mobile and static sites.
Fiona Smith – Superintendent Radiographer – University Hospitals Sussex NHS Foundations Trust
Making the move from OEM to an ISO is not always an easy decision. The process that we went through internally was supported at every stage by Probo who worked with us to give us the assurance that we needed. The implementation of the new contract was handled extremely professionally, and we have been able to realise both the financial saving and excellent service provision that we were promised.
Julie Wilkins – Head of Allied Health Professions Clinical Services Division – Liverpool Heart and Chest Hospital NHS Foundation Trust 
Having spent 30 years in healthcare, I have not seen anyone react so quickly and effectively to a MRI machine breakdown as Probo and this speaks volumes for their company ethos. I would recommend the Probo Medical service to any MRI user. We are proof that their service not only meets the promises made but surpasses it.
Richard Parsons – Healthcare Director – Chartwell Hospital Group
Probo have been covering a large selection of our equipment at Ealing Hospital for the past 3-4 years and the service they give is excellent. I have been able to call at the weekend when we have had failures and they have always been able to facilitate an engineer first thing on a Monday morning. They always seek to get parts as soon as the possible and always give regular updates. All the staff at Probo are courteous and the skills of the engineers within the company are a second to none.
Gavin Coleman – Radiology Clinical Lead – Ealing Hospital London North West Healthcare NHS Trust
The whole process was handled superbly from start to finish. Our old MRI was not saleable but Probo came to our aid to remove it within the tight timeframe of the project ready to install a new machine. Well done all round!
Jeff Bayliss – SWFT – Warwick Hospital 
"St James's Hospital wishes to thank Probo Medical for their professionalism, support, and responsiveness in the removal of our ct scanner equipment. The process was made seamless with the support of Lain Quarrie, Meg Williams, Ben Pine, Dani Langson, and John Hoadley. St James's Hospital was kept informed at every step of the process and tight deadlines were kept by Provo Medical."
– David Gunning
We have over the last few years worked with Probo on providing a bespoke maintenance contract for our Ultrasound and X-ray equipment
Dave Guymer – Technical Manager, Clinical Engineering – Sheffield Teach Hospitals NHs Foundation Trust 
As a new Vascular Surgeon I required an Ultrasound scanner for my Varicose Veins practice. Probo was recommended by a colleague and following a few telephone conversations I trialled a SIUI scanner which was more than capable of the job and was remarkable value for money. I would not hesitate in recommending Probo to anyone. The customer service has been superb and the process of buying (apart from writing the cheque!) was painless!
Neil Hopper – Cornwall Vein Clinic