When addressing musculoskeletal (MSK) injuries in your patients, today's portable, inexpensive ultrasound machines can take clear, high-resolution images showing the tendons, muscles, and ligaments holding our insides together.
Diagnostic ultrasound has become a popular option at a growing number of chiropractic practices. One reason for this is that ultrasounds don't use ionizing radiation like x-ray or CT, making them safe for patients. Secondly, the continued diminishing costs on high-resolution machines have allowed many chiropractic practices to begin offering efficient and accurate in-office diagnostic imaging.
If you're a chiropractor looking for the right diagnostic ultrasound system for your practice, Probo Medical can help you get started. Below, we've included some information essential for an intelligent purchasing decision, and our specialists are standing by to answer any questions you may have. Take a dive and see if MSK ultrasound is a viable solution for your business.
Common Applications For Diagnostic Ultrasound
One of the best indicators for intelligent purchasing is knowing exactly what you're going to do with the machine.
Except for needle injection purposes, diagnostic medical sonography is rarely used for spinal imaging. It cannot see through bone and has a limited field of view when compared to CT/X-Ray/MRI. It also lacks the scientific literature to back up claims of effectiveness.
Although the majority of chiropractors focus on the spine as part of their practice, this doesn't mean that diagnostic ultrasound isn't a useful tool for chiropractors. Musculoskeletal (MSK) imaging is certainly the most common use among chiropractors. It identifies damage or problems in joints, tendons, ligaments, muscles and nerves where the patient has pain.
Specifically, trained chiropractors can use ultrasound imaging to help diagnose:
Inflammation or fluid (effusions) within the bursae and joints
Ligament tears and sprains
Tendon tears or tendinitis in the shoulder's rotator cuff
Issues with the achilles tendon as well as other tendons throughout the body
Muscle tears, masses, or fluid collections
Nerve entrapments (such as carpal tunnel syndrome)
Hernias
Hip dislocations among infants
Excessive fluid in hip joints among children
Neck muscle abnormalities in infants with torticollis (neck twisting)
There is also scientific literature backing MSK ultrasound usage for shoulders, elbows, wrists, carpal tunnel, hips, knees, feet, and ankles. MSK ultrasound imaging can be an excellent tool for these applications, and, more importantly, there's a lot of data that's not controversial with insurers.
Superficial image of a tendon with a 10MHz transducer
What to Look for in Diagnostic Ultrasound Equipment
If you're ready to add a diagnostic ultrasound machine to your practice, you can start by examining some specific components and characteristics. Portability is also an important trait to consider, because many chiropractors are moving from room-to-room. With a portable machine, a dedicated ultrasound scanning room will not be necessary.
Technical Considerations
Budget is understandably the first and foremost issue among chiropractors looking for a new system. Spending more money on an ultrasound machine typically translates to more imaging channels, higher processor speed and power, and better imaging penetration of tissues. But a high price tag for the additional components might not be feasible or necessary for some practices.
Due to years of diminishing prices, today's medium- and low-cost MSK ultrasounds have the necessary imaging technologies to produce diagnostically useful information for many superficial, musculoskeletal applications.
If it's in your budget, some specific technical considerations to look for may also include:
Compound Imaging provides multiple lines of sight from the transducer at different angles. Ultrasounds without compound imaging, on the contrary, only provide a single line of sight perpendicular to the transducer head. Having compound imaging helps reduce artifacts in the image while better defining tissue.
Speckle Reduction Imaging reduces artifacts in darker areas of the image while also improving tissue definition.
Needle Visualization (for needle injection purposes) increases visualization of the entire needle and allows operators to see the trajectory of the needle.
As a side note — for chiropractic purposes, features such as CW Doppler or anything involving cardiac imaging technology are not necessary and often add to the cost. Probo Medical's expert sales technicians won't try to sell you unnecessary upgrades.
Portability
Portable ultrasound technology is the most common type of system purchased by chiropractors. These systems provide excellent imaging quality, and you can easily move them from room-to-room without requiring a dedicated medical imaging room.
There are plenty of laptop-sized scanners (shown below) that boast a good compromise between cost/portability and image quality, and many come with advanced imaging functions, such as harmonic imaging, compound imaging, speckle reduction imaging, and color/power/PW Doppler. Needle Visualization enhancements are also becoming more common among low-mid priced ultrasound machines.
GE Logiq e Portable Ultrasound Machine
Cart-based machines are rare in chiropractic practices, but in some cases, a refurbished cart-based console ultrasound can offer some advantages in price and performance. However, these are not transferred or stored easily and typically are not moved from room-to-room.
Probes (Transducers)
For musculoskeletal and soft tissue imaging, you'll want a high-frequency, broadband linear array probe reaching 12MHz or higher. In general, a higher frequency probe allows for better image resolution among superficial images. At the same time, transducers that tout 18MHz or higher don't always provide the best image for some MSK applications. Some lower-end portable machines offer a maximum 10MHz probe, which is acceptable for imaging depths of 2cm or greater.
If you plan on using your ultrasound machine for spine imaging, then you might need to consider a low-frequency probe (2MHz to 5MHz range) that can penetrate deeper than the high-frequency probes.
Top 4 Ultrasounds for Chiropractors
By analyzing imaging technologies, affordability, and versatility for chiropractic MSK applications, we've compiled a list of the top 4 ultrasounds for chiropractors. This list serves as a starting point for finding a diagnostic ultrasound for your practice, and if you cannot find the ideal system here, call Probo Medical. Our experts will help you find the best ultrasound that'll provide the most benefit to your practice.
Mindray M7
Delivering the power and productivity of a full-sized system in a portable, hand-carried design, the Mindray M7 is equipped to deliver confidence, speed, and excellent system performance for a wide range of applications.
As a chiropractor using the M7 for MSK imaging needs, you'll find some of the following benefits with this system:
Octal-beam imaging technology for outstanding temporal resolution
Multiple tissue harmonic imaging technologies
Tissue Doppler imaging
Real-time 3D imaging
Speckle suppression technology
Spatial compounding
Panoramic imaging
Needle visualization technology
Chison Q9
The Chison Q9 is a high-end portable ultrasound. Some of its most advantageous features for chiropractors include CW Doppler and 4D technology. This means that extremities and soft tissues are clearer with excellent spatial quality and solid frame rates, which can provide greater accuracy when making a real-time diagnosis.
Other benefits of the Chison Q9 ultrasound include:
Shared service
Compound, speckle reduction, and harmonic imaging
Elastography
Needle visualization software
18MHz linear transducer
4D imaging with virtual HD view
SonoSite M-Turbo
Sharp contrast resolution and clear tissue delineation are two qualities of a first-rate ultrasound for chiropractors (the more you can see, the more you can do). The SonoSite M-Turbo boasts outstanding image quality and resolution, letting you better visualize detail and improve your ability to differentiate structures. The M-Turbo is also extremely durable and is one of the toughest ultrasound machines on the market.
Other benefits of the M-Turbo include:
Lightweight design (6.7 lbs)
PW & CW Doppler imaging
SonoADAPT™ tissue optimization
SonoHD™ imaging technology
SonoMB™ multi-beam imaging
On-screen options for adjusting settings
GE Venue 40
Simple, and yet sophisticated, the GE Venue 40 is a tablet-based portable ultrasound machine boasting excellent image quality and a small and lightweight design.
The Venue 40's touchscreen interface isn't just a gimmick; it allows better interactivity with images and it's easy to keep clean, which is essential in a sterile environment. Furthermore, the Venue 40 allows chiropractors to work quickly and easily with its intuitive, pre-configured application settings and choice of three connected probes.
Other features of the GE Venue 40 include:
CrossXBeam
Speckle reduction imaging (SRI)
Options for color and PW Doppler
Mobile docking station option
Linear, convex, and phased array transducer capabilities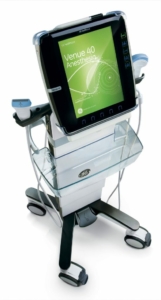 Add Diagnostic Ultrasound to Your Practice Today
Whether you're a large or small practice, you provide sports chiropractic services, or you're part of a larger clinic and you can collaborate with other radiologists, ultrasound imaging on-site offers numerous real-time diagnostic benefits.
At Probo Medical, we offer new and FDA-certified, refurbished ultrasounds at affordable prices, as well as a whole variety of probes. To speak with a specialist about the benefits of ultrasound in your practice, and which equipment can help you reach your goals, call us today at 866-513-8322.
About the Author
Brian Gill is Probo Medical's Vice President of Marketing. He has more than 20 years of experience in the ultrasound industry. From sales to service to customer support, he has done everything from circuit board repair and on-site service to networking and PACS, to training clinicians on ultrasound equipment. Through the years, Brian has trained more than 500 clinicians on over 100 different ultrasound machines. Currently, Brian is known as the industry expert in evaluating ultrasounds and training users on all makes and models of ultrasound equipment, this includes consulting with manufacturers with equipment evaluations during all stages of product development.